My friend Jo—awesome person and author that she is—is hosting a

blogFEST

. Well the letter F is for friends, and since Jo is one of my best ones, I am actually displaying some actual writing of my own. BUT only because she asked me to.

J
For her thing, you are supposed to write about an awkward "Meeting of the Ex-es" moment. It has taken me some time, but here is what I came up with. (Just so you know, this was scary for me. I hardly ever post my actual writing.) I'm taking a stab at writing from a grown up MALE perspective. Believe me, this is a HUGE stab. I write YA, so all of my stuff is teenage girl stuff. Therefore, forgive me if I

accidentally

slip into

snarkiness

. It's the comfortable writing attire for me. I also decided to write about the build up to the awkward ex moment and let you figure out the rest yourself. Anyway…here goes…
READ AWAY! (I'll just be over here, biting my nails)
PARENT/TEACHER CONFERENCES
"Hey, Honey, where did that new dress shirt go?" I flip through the clothes hanging in my closet. Normally, I don't care much about what I look like, but tonight is special.
"Which dress shirt?" she calls from the other room.
"The blue one. The one I bought yesterday."
"I washed it." My wife walks into the room dangling the freshly ironed shirt from a fingertip. She puts a hand on her hip. "Why are you trying to look so fancy anyway? It's only parent teacher conferences? Most people just wear jeans and a t-shirt." She hands me the shirt, then steps around me to look through her jewelry box. That's what really bothers me. The way she never looks at me anymore.
My fingers shake as I put it on and button it up. I hope she doesn't notice. I hope I'm acting casual enough. I turn away from her and clear my throat. "I thought everyone dresses up for these things."
"Nope." She pulls out a necklace. "No one."
Finally, she walks to her side of the closet and yanks out a button up shirt and some kind of dressy pants. She holds them out to show me. "But if you want to look all decked out, then I'm with you."
An eyebrow raise and fake smile are all I can concede right now. But I watch her as she walks into the bathroom and closes the door silently behind her. At one point she would have invited me in. She wouldn't have been able to keep her hands off me. That was a long time ago.
I secure my tie, check to make sure it looks okay, and proceed to pace until my wife comes out of the bathroom. As soon as I see the door opening, I leave. We've filled our quota of small talk for the day.
Thomas, our son, is watching TV in the living room. I sit next to him on the couch and ruffle his hair. "What's up sport?"
"Nothing." My son is only twelve, but has mastered the art of "don't ask, don't tell" as well as any teenager. He doesn't take his eyes off the television screen.
We sit in silence for a while watching some kind of cartoon show that's too young for him. Not something I'd choose to watch under normal circumstances, but it takes my mind off of what I'm doing tonight. The stupid, conceited, exhilarating thing I'm doing tonight.
"So how's school going?" I ask.
"Fine."
"You like your teacher, Miss…what's her name again?" I put a finger between my collar and my neck, suddenly feeling like I'm strangling.
"Miss Warner. I've told you a million times." Thomas rolls his eyes.
"Oh yes. That is her name." I say it jokingly, but get a ripple of fear in my stomach at the name.
Kathy Warner. Junior year of high school. Backseat of my parents Oldsmobile. Yep. I remember a lot about Kathy Warner. A lot.
"Ready." My wife is putting in her last earring as she stoops to turn off the television. "We don't want to be late." She barely glances at me before heading into the kitchen. Thomas pushes himself off the couch to follow. I wonder how she gets him to like her so much. He is my son, but sometimes I feel like he's just putting up with me.
Checking my tie and hair in the mirror, one last time, I follow them out to the car. My wife is already sitting, seat buckled, in the passenger seat, and checking her lipstick in the overhead mirror. Thomas has found his

IPod

and is staring out the window, pretending I don't exist. I turn on the radio and back out of the driveway. Rainy Day Woman by Bob Dylan streams from the speakers, bringing back a new wash of Kathy Warner memories. The car warms at the visions tumbling in my mind, until I know I must look flushed. I just thank the lord that my wife doesn't pay any attention to me.
As we pull up to the school, I resist the urge to check how I look in the mirror. It would be a dead giveaway. And I'm not ready yet to explain to my wife why I agreed to come to parent/teacher conferences this year.
She doesn't know about Kathy Warner, because I never told her.
But she will know.
Soon enough.
To look at other awkward EX moments...go here:
http://jostorm.blogspot.com/2010/09/writing-promptdialogue-between-exes.html
To Hook up to
Alphabe
-Thursday, go HERE: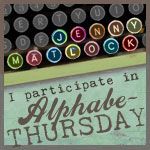 What about you? Have you had a freaky EX moment you're willing to share? I didn't dare tell my real life
Awkward
moment.