I am an educated person. I have a bachelor's degree and have taken millions of classes on reading and writing. It's what I do. I teach teachers how to be better at reading and writing. So I've always kind of assumed my brain was big…LIKE THIS…
And yet…
Even with all of that…
I AM STILL AN IDIOT MOST OF THE TIME.
See, I don't mean to, but many times I set myself up for embarrassment.
My brain just doesn't think in a logical way. It thinks in a "how-can-I-make-this-as-hard-as-possible" way. I've always gotten excellent grades, scored above average on the SAT and IQ tests, and could ace any test. HOWEVER, when it comes to just surviving in the normal, everyday world"… brilliance escapes me.
Lest you don't believe me, let me just give one example of why I sure am glad that Homer Simpson coined the phrase "DOH!" so that they could add it to the dictionary and I could use it to show what an idiot I am.
The other night, I was laying in bed watching television (something I do before going to sleep every night), when I "thought" I saw a little black speck out of the corner of my eye. I got nervous and sat up straighter. Because, you see, I have an teensy, tiny fear of mosquitoes being in my room at night. I mean, they suck your blood. Doesn't that kind of freak you out a little too?
Pretty soon, I start to relax again and kind of forget about the black dot. That is until I hear the unmistakable high-pitched whine of an actual mosquito. So I sit up and swat around my head a couple of times and bury myself in my covers so it won't bite me on my beautiful-non-marred-by-a-mosquito-bite face.
I listen to see if it is still close.
Silence.
After a minute of not hearing anything, I get out of the covers and relax.
Suddenly, the high-pitched whine is back.
Closer this time.
So I wave my hands around my face and in the air to frighten it. Once again, no noise at all. Then a second later, I hear it again.
AND I FREAK OUT.
I jump up and start swinging my arms wildly around, swishing and swishing to displace the air currents and maybe fling it as far from my body as I can. It is while I am in the midst of doing this, that I hear it again.
This time to the side.
And I locate the sound.
And THIS…
Is what I find…
On VIBRATE.
Please tell me you feel the same way sometimes. Please. Please. Please.
What "DOH!" Moments have you had? I must hear them in order to feel better about myself. :-)
Link up to Alphabe-Thursday…HERE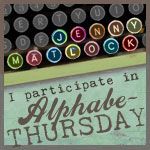 And play along.
Oh, and don't forget to link up here...
http://writingbycandlelight.blogspot.com/
to read about little old me and be entered into a giveaway

. :-)